Discover the best manager office desks in Dubai, with expert tips on choosing the ideal one for your leadership style. From reliable suppliers and movers to efficient cable management, explore how office furniture can enhance your workspace and productivity.
Introduction
As a manager, your office desk is not just a piece of furniture; it's your command center, your sanctuary, and the place where your leadership style takes shape. Finding the perfect manager office desk in Dubai is crucial to creating a productive and inspiring workspace. This article will guide you through the process of selecting the best desk, highlighting reliable suppliers and movers, and addressing essential considerations like office desk cable management and overall desk management.
Identifying Reliable Suppliers
Design Craft, being a plethora of top-notch office furniture suppliers in Dubai, offer quality furniture and reliable service followed by a wide range of options to ensure you find the best manager office desk.
Ensuring Seamless Office Desk Moves
If you're relocating or changing offices, moving your office desk can be a daunting task. To ensure a smooth transition, consider enlisting the services of manager office desk movers. These experts specialize in handling office furniture, ensuring its safe transportation and installation.
Prioritizing Ergonomics and Comfort
As a manager, you spend considerable time at your desk, making ergonomics and comfort crucial factors to consider. Look for a desk that allows for proper posture, adjustable heights, and adequate legroom. A comfortable workspace promotes productivity and reduces the risk of health issues associated with prolonged sitting.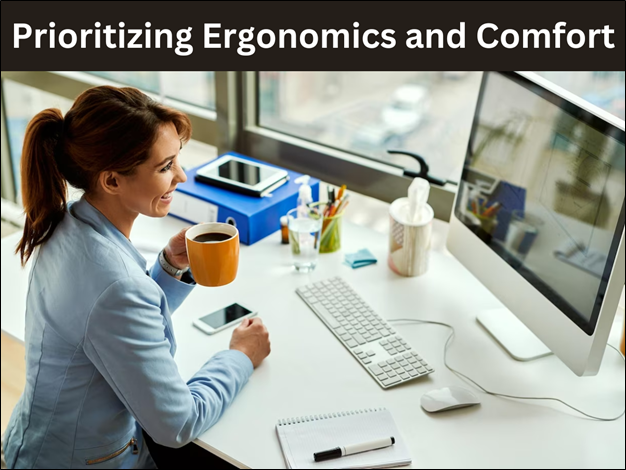 Efficient Cable Management
In today's technology-driven world, cable management plays a vital role in maintaining a tidy and organized workspace. Office desk management is crucial for the leaders to present professionalism and with built-in cable management solutions, such as discreet cable trays, grommets, or wire management systems, the job gets easier. These features keep your cables neatly organized, reducing clutter and facilitating easy access to power outlets.
Maximizing Desk Storage and Organization
A well-organized desk contributes to a clutter-free mind. Opt for a manager office desk with ample storage options, such as drawers, shelves, or built-in filing cabinets. Having designated spaces for documents, stationery, and personal items helps streamline your workflow and enhances efficiency.
Customization and Aesthetics
While functionality is crucial, aesthetics should not be overlooked. Consider the overall design and style of the office desk, ensuring it aligns with your personal taste and the overall aesthetic of your workspace. Some manager office desk suppliers like Design Craft offer customization options, allowing you to tailor the desk to your specific preferences and create a unique focal point in your office.
Customized Manager Office Desk
U-Shape, Rectangular, and L-Shape Desks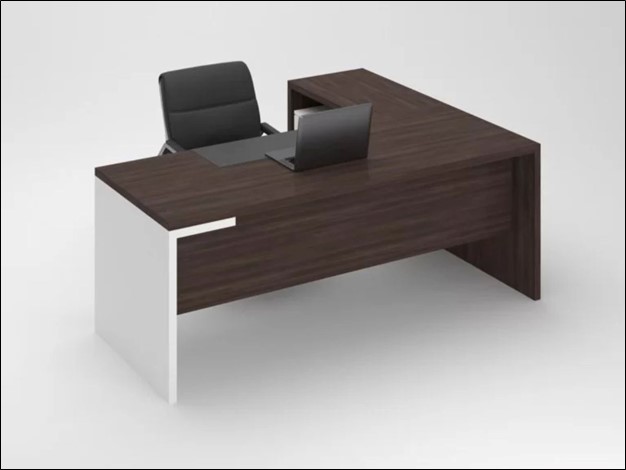 To cater to different preferences and office setups, we offer a range of executive desk options. The U-shape executive desk provides an expansive workspace with symmetrical or asymmetrical design options. The rectangular executive desk combines minimalism with functionality, allowing for easy customization and optimization. The L-shape executive desk keeps everything within reach, providing ample space for your computer, files, and more.
Premium Materials and Finishes
Quality is paramount when it comes to office furniture. Our manager office desks are made from Egger German Board, known for its optimal surface properties, including abrasion and scratch resistance. Choose from a wide range of finishes, including wooden finishes like Pacific Walnut and Natural Halifax Oak, solid colors like Chilli Red and Pearl Grey, or sophisticated marble/stone finishes like White Carrara Marble.
Wire Managers and Grommets for Enhanced Organization
Efficient cable management is essential for a clutter-free desk. Manager office desks come equipped with wire managers and grommets, ensuring tidy cable organization and easy access to power outlets. Say goodbye to tangled wires and hello to a clean and organized workspace.
Warranty, Delivery, and Installation
Design Craft's manager office desks come with a generous 5-year warranty. Accompanied with free delivery and installation services in Dubai, Abu Dhabi, Sharjah, and Ajman. The dedicated team handles the logistics and ensures to cater nitty-gritty.
Conclusion
Manager office desk offers require careful consideration of your leadership style, ergonomic features and cable management solutions. Ensure the highest quality office furniture and a seamless transition to your workspace for professionalism.