Discover the art of crafting a productive and visually appealing office workstation in Dubai. Explore Design craft. the top office furniture suppliers and movers, and learn how to create a cozy, organized, and stylish workspace that enhances productivity and professionalism.
Introduction
A well-designed office workstation is the cornerstone of a productive work environment. It not only creates a convenient space for employees but also reflects the company's professionalism and commitment to quality. In Dubai, where efficiency and style go hand in hand, it is crucial to carefully curate your office setup. This article provides a comprehensive guide to creating an efficient and stylish office workplace in Dubai, highlighting the importance of office furniture, reliable suppliers, and skilled movers.
The Role of Office Furniture in Dubai
Office furniture serves as the foundation of an ergonomic and efficient workstation. When selecting furniture, it is vital to consider both comfort and design. Design Craft being a reputable supplier in Dubai who specialize in office furniture and offer a wide range of options to suit your needs — the ergonomic chairs and adjustable desks are essential for promoting good posture and reducing strain on the body during long hours of work. Additionally, top-notch materials and finishes exude professionalism and durability.
Choosing the Right Office Workstation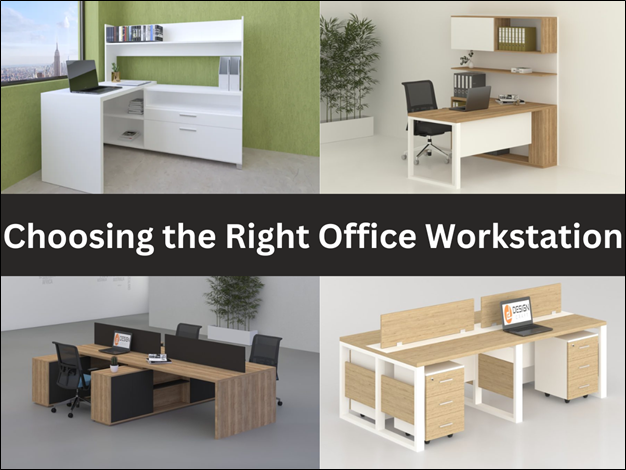 The office workstation itself plays a crucial role in enhancing productivity. Consider the layout and configuration that best suits your workspace. Cubicles, open-plan layouts, or modular workstations each have their advantages and should be chosen based on your specific requirements. Consult with the team of Design Craft in Dubai who can offer customized solutions tailored to your office space and workflow and with their extensive knowledge of office workstations and furniture, the team provides expert consultation and recommendations. They guide you through the myriad of options available, taking into account factors such as ergonomics, space efficiency, and pattern aesthetics.
Dynamic Designs of Office Workstations with Design Craft's Creative Touch
Design Craft understands the needs of office workstations. That's why we offer unique benefits and functionalities  through a variety of shapes and configurations to reflect your organizational culture well. Our cubicle workstations combine privacy and noise reduction features, creating individualized spaces for focused work. Open-plan workstations, infused with our design expertise, foster collaboration and communication, fueling creativity and idea-sharing. With our touch, L-shaped workstations maximize corner spaces while providing ample surface area for multitasking, harmonizing efficiency with aesthetics. U-shaped workstations, designed with careful consideration, offer extensive workspace and storage options, catering to those who require a larger area to excel. Moreover, our modular workstations epitomize adaptability and flexibility, enabling effortless reconfiguration to suit evolving needs.
Collaborating with Dubai's Office Workstation Suppliers
To ensure a seamless transition and optimal setup, it is advisable to partner with reliable office workstation suppliers in Dubai. These professionals possess the expertise to guide you through the process, from conceptualization to implementation. They can provide valuable insights into maximizing space utilization and optimizing workflow.
The Importance of Office Workstation Movers
Relocating an office workstation can be a complex and delicate task. When moving or reconfiguring your office layout, it is crucial to engage experienced office workstation movers in Dubai. These professionals have the necessary skills and equipment to dismantle, transport, and assemble your workstation with precision. By entrusting this responsibility to experts, you can ensure a smooth transition while minimizing downtime and maintaining the integrity of your office furniture.
Creating a Comfortable and Organized Workspace
Beyond furniture and suppliers, additional elements contribute to an efficient and stylish office workstation in Dubai. Ensure that your workspace is well-lit with proper lighting fixtures that minimize eye strain. Integrate storage solutions such as filing cabinets, shelves, or built-in drawers to maintain an organized environment. Incorporate elements of design, such as color schemes and decor, that align with your brand identity and create a visually appealing atmosphere.
Conclusion
Designing an efficient and stylish office workstation in Dubai requires careful attention to detail, quality office furniture, reliable suppliers, and skilled movers. By prioritizing ease, organization, and design, you can create a workspace that promotes productivity and professionalism. Reputable office workstation suppliers and movers in Dubai provide tailored solutions to meet your specific needs and enable you to embark on the journey of creating an exceptional office workstation.