Creating a comfortable and welcoming environment for your clients or guests is essential to any business today. Make your clients feel comfortable by converting your office reception area into a most relaxing spot, where they should feel pleased and inspired by your company and your positive gestures. The office reception furniture, undoubtedly, can leave a long-lasting impression as it can significantly impact your entire brand appearance. Therefore, ensuring that your office reception area is functional and aesthetically pleasing is essential.
Choosing the right furniture is the most crucial factor in creating a welcoming office reception area. The custom office furniture in Dubai you choose should reflect the value and personality of your brand.
To help you make the right decision, in this blog, we have covered you with some best office reception furniture ideas for creating a comfortable and welcoming reception area with the right furniture in Dubai! So, keep scrolling your fingers!
● Consider The Space Available
Before purchasing office reception furniture, it is essential to consider the available space in your reception area. The shape and size of your reception area will dictate the type of furniture you can use; ensure to accurately measure the space, such as windows, doors and other obstacles. You won't face any issues setting up the reception furniture when you have the proper measurement.
● Select Comfortable Seating
Selecting comfortable seating for your reception area is essential for creating a welcoming and relaxing environment for your guests. Comfortable seating can make all the difference in how your guests perceive your business and leave a lasting impression.
When selecting seating options for your reception area, consider choosing both functional and comfortable options. Opt for chairs and sofas that provide adequate support and cushioning and are ergonomically designed to promote good posture. Consider using a mix of seating options, such as armchairs, sofas, and benches, to create a varied and dynamic seating arrangement.
● Use Functional Tables
Selecting suitable tables for your reception area is crucial for functionality and aesthetics. Your tables should provide a practical surface for your guests to use while also adding to the space's overall design. Consider using a mix of coffee tables, side tables, and console tables, depending on the size of your reception area.
When selecting tables for your office reception area, it's also essential to consider the materials used. Choose tables that are durable and easy to clean, such as those made of wood or metal. Consider using tables with built-in storage, such as drawers or shelves, to keep the space organized and clutter-free.
● Pay Attention To Color And Texture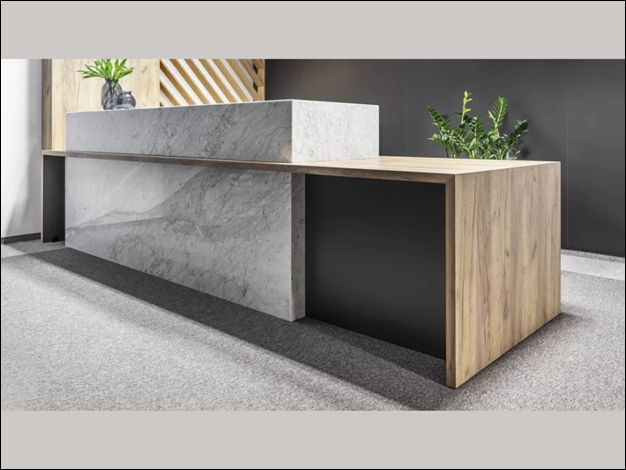 When selecting reception furniture, paying attention to color and texture is essential. The right colors and textures can create a warm and inviting atmosphere, while the wrong choices can make the space feel cold and unwelcoming. Consider the colors that reflect your brand's personality and values, and choose furniture that complements your brand's color palette. If you're unsure which colors to use, consider consulting with an interior designer or brand specialist to help you make the right choices.
In addition to color, texture can significantly impact the overall ambiance of your reception area. Consider using textured fabrics such as leather, velvet, or woven fabrics to add depth and interest to the space.
● Add accessories
Adding accessories to your reception area is an excellent way to create a welcoming and comfortable environment. Accessories can add visual interest, texture, and color to the space, making it more appealing to your guests. Consider using artwork, plants, decorative objects, or accent lighting to add warmth and personality to your reception area.
Decorative objects such as sculptures, vases, or decorative bowls can also add a touch of personality to your reception area. These items can reflect your brand's values or create a welcoming and comfortable atmosphere. Accent lighting is another accessory that can be used to create a warm and inviting environment. Use table, floor, or wall sconces to add ambient lighting and create a comfortable atmosphere for your guests.
Wrapping Up
creating a comfortable and welcoming reception area is crucial for any business. By selecting the right luxury office furniture UAE, you can create an environment that reflects your brand's personality and values while providing your guests with a relaxing and comfortable space. Consider using the tips outlined above to create a reception area that will leave a lasting impression on your clients and customers.